So…life. Life has been kicking my butt lately, I'll admit. The house is a mess, we're in a food rut and eating dessert and sweets way more than I care to admit, and I'm behind on, well, everything. By everything I mean laundry and grading papers and planning meals.
A few weeks a blogger friend of mine sent out an email about a blog hop she was hosting called Keepin It Real. The idea was to post pictures of our house in their natural state–aka the imperfect and messy houses most of us live in every day. I loved the idea and was so excited to take part in it. Except I totally forgot and didn't post my pictures within the time period. Because life.
I still think it's a really fun idea to get to peek into other people's houses and so here I am, a few weeks late and a few messes short. Kidding. We have plenty of messes around here. I've never been a super-neat person. I can be organized when I want to, and I definitely know where everything and anything is, but my house isn't always the neatest.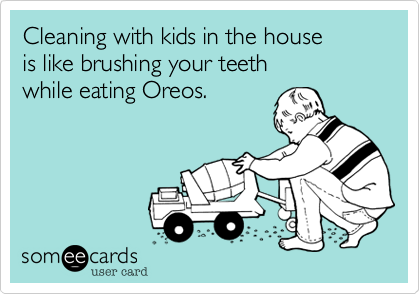 I'm the kind of mom who is totally ok with things being a mess during the day, and at the end of the day, once the kids are in bed I take 30 minutes to put stuff away and get organized for the next day. In that time I usually tidy up the family room because it's where my husband and I hang out and watch tv. I also focus on the kitchen. I do whatever dishes remain and get rid of whatever clutter is on the counter tops. Some days I get more done than others.
So…here goes with the Keepin It Real Home Tour! Rather than bombard you with 100 pictures I only did the family room. You'll get the idea.
The Mess
aka what it usually looks like…
Neat (or…neater)
with a few littles who just could not stay out of the pictures 🙂
In the comments, tell me about your house! Are you messy? Neat? Do you clean up as you go or just do a once-over at night?